Full Fledged Mark
Posts: 118
Joined: April 21st, 2010, 9:53 pm
---
---
500 bucks! Could just wait near the stage door for JDM to take one of his 60 smoke breaks.
---
Full Fledged Mark
Posts: 118
Joined: April 21st, 2010, 9:53 pm
I'm going there's a lot of celebrities they're usually I'm hoping I could run into Paul rud because they're best friends and he usually goes the event
---
Marked Out Master
Posts: 1700
Joined: June 6th, 2009, 6:32 pm
Location: Mechanicsburg, PA
Contact:
More interested in Hilary Burton.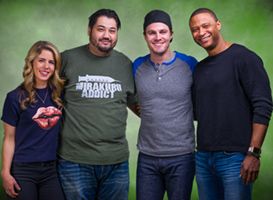 http://www.cmshowstopper.com/
Official Webpage Of CM Showstopper
http://www.fallenangelchristopherdaniels.com
Official Webpage of Christopher Daniels
---
Full Fledged Mark
Posts: 118
Joined: April 21st, 2010, 9:53 pm
Says photos i wonder if you can bring something to get signed
---
---